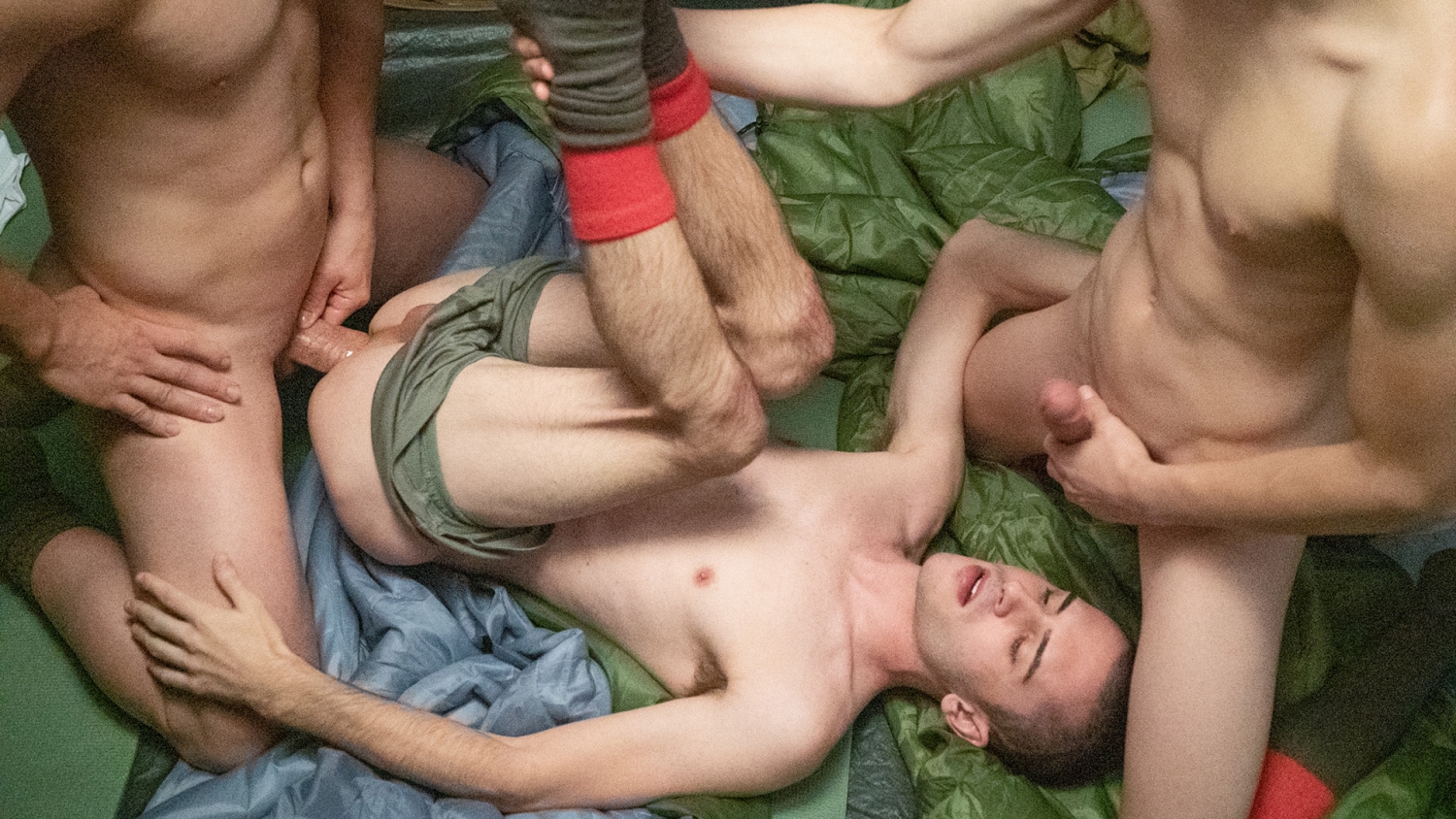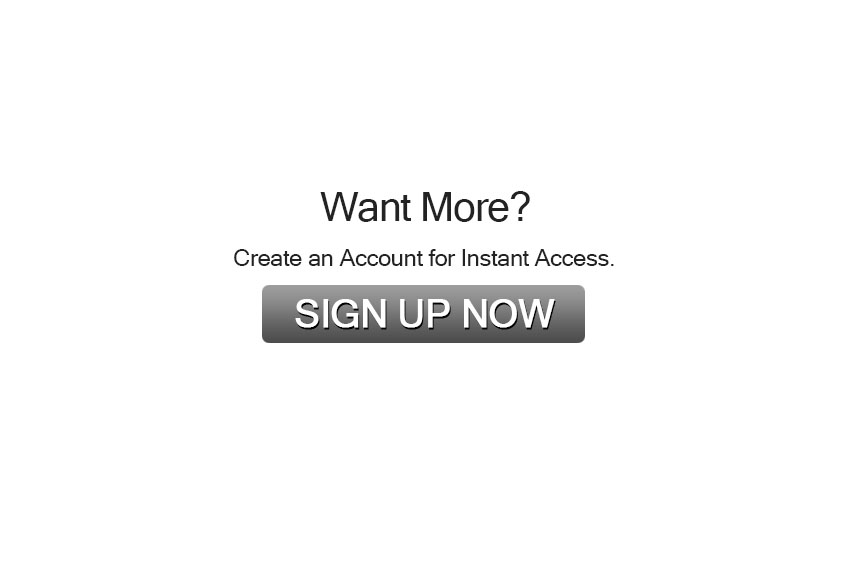 Scary Camp Stories
This is my first time at Scout camp. I think I always wanted to join the Scouts but always felt a bit nervous about the idea of being away from home! It's not that I'm a Mommy's boy - it's just that the kids in High School who were in the Scouts tended to be the ones who got into fights and skipped classes. And that just didn't seem much like me…
I'll confess - ...
Read more
I'll confess - I only decided to sign up for this particular summer camp when I heard that this dream-some guy in the year above me was also going. I decided it was meant to be. You can imagine how disappointed I was when I got here and discovered he'd changed his mind and gone off to theater camp instead! But, hey, what doesn't kill you makes you stronger and all that, and it turns out the Scouts is exactly my sort of thing!
I took my pledge of honor with Scoutmaster Fantana. I was so nervous and had no idea what to expect but he made me feel really special. When a powerful man like that, a man you respect so much, shows that he's interested in you, well, it makes you feel that little bit more confident, doesn't it?
Scoutmaster Fantana is amazing. He's not all that tall, but he's got these really deep, almost sad, grey eyes. And his body is incredible. He's so ripped!! When he first took his shirt off in front of me, I was amazed. He's not hairy like the other Scout leaders, but he kind of radiates strength! And when I saw his massive, veiny dick completely hard - for me - I couldn't contain my excitement.
I knew instantly that he was the one to have my virginity. I mean, it hurt like hell, but he went in as gently as he could. And the pain was totally worth it for the pleasure I gave him.
I didn't realize that what happened between us would instantly give me a taste for more. I found myself wandering around the camp, looking at the other Scouts, trying to work out if they'd also had some kind of sexual awakening! A rumor went around that another Scout, Austin, was fooling around with some of the other Scout Leaders and so I made sure we got some quiet time together! I guess Austin is the complete opposite of Fantana. He's short and looks very young, but there's also something really sexy about him. He looks at you like he knows stuff!
And boy does he know stuff! We crept into an empty tent and he fucked me as well!
I was a little nervous when Scoutmaster Fantana suggested Austin and I join him for a night trek. He told us he'd pitched a tent in the middle of the forest and it was up to us to use compasses and a set of clues to find it. It was the first time I'd spent any time with him since, well, since he took me, and I was embarrassed on one hand, but also wary because I didn't want him to start liking Austin more than he liked me…
We reached the tent in the middle of the night and the three of us got into our sleeping bags. I was in the middle. The Scout leader said good night and we settled down but I could instantly tell that Austin was feeling all horny. I was terrified that Fantana would discover we'd been together but Austin unzipped his sleeping bag and curled up behind me. It felt really warm and cozy at first, but then he started kissing my neck and sort of pulsing his hips into me and I got rock hard! It felt so horny and naughty to be kissing him and silently feeling him up while the Scoutmaster slept.
Of course, we soon got all carried away. I got on top of Austin and we were grinding into each other, like they do in the movies. Then I started sucking him, real deep and sensual. I loved that Austin was trying to keep quiet even though he really wanted to moan - probably as loud as he moaned when we were last together, which is loud! I kept looking over at the Scoutmaster to check he wasn't stirring, but he seemed to be fast asleep.
In the end Austin couldn't help himself, and he let out this really loud groan. It would have been quite funny had it not instantly woken Fantana up! He turned around and basically caught us in the act. I was mortified. I felt like I'd let him down somehow.
But he just murmured something about knowing what was going on and then going down on Austin's dick himself!! I felt a massive rush of jealousy as I watched him sucking Austin, but when took his underwear down, revealed that giant dick of his and said, "Who wants it?"- I knew it had to be me.
I squatted down and sucked him as hard and as deep as I could. I kinda needed him to want me more than he wanted Austin. I was Fantana's boy and that wasn't gonna change. Austin, of course, then started sucking the Scoutmaster and it looked like he was really enjoying the experience. So, I got back on Fantana's cock and sucked it harder and harder. My body was shaking. I wanted him with every fiber!
Austin got behind me and started sticking his tongue into my hole. It felt amazing, but I was really relieved when Fantana swung me around, plainly wanting to fuck me…
It really wasn't very long at all before the Scoutmaster's cock was gently rocking inside me. I was pleased that he didn't push it in too far at first. It gave me a chance to get used to it. It was really kinda sexy to be feeling him inside me one end while also sucking Austin's beautiful dick. It was a sensation of total pleasure, you know? Like I was somehow their toy. The thing they both needed…
The Scoutmaster made Austin bend over. I didn't really want him to stop fucking me, and certainly didn't want him to fuck Austin, but the whole thing felt quite natural and the Scoutmaster kept looking down at me with those deep, grey eyes. It felt like we were sharing a moment. Just me and him.
I was pleased when he asked me to get on my back so that he could fuck me again, this time from the front. I guess he wanted to look down at me so we could lock eyes again and he could see in my face the way I felt about what he was doing to me. I started sucking Austin again. Sometimes he'd lean over and kiss me. It felt intimate.
Sadly, Scoutmaster Fantana was soon asking to fuck Austin again, so we got Austin on his back and I held him in my arms as Fantana pounded him. Austin's way more experienced than me, and could take it much harder. The Scoutmaster really started going for it and it must have triggered something in Austin because he suddenly started gasping and before I could work out what was happening, great shards of spunk were flying out of him onto his stomach!
I stroked Austin's chest and Fantana kept fucking him until he shot inside Austin's ass. You could see the great blob of Scoutmaster spunk there on the hole once he'd pulled out.
Then it was time for bed and just like that, he was just our Scoutmaster again. But I didn't cum! I lay there all night, wishing he was still inside me!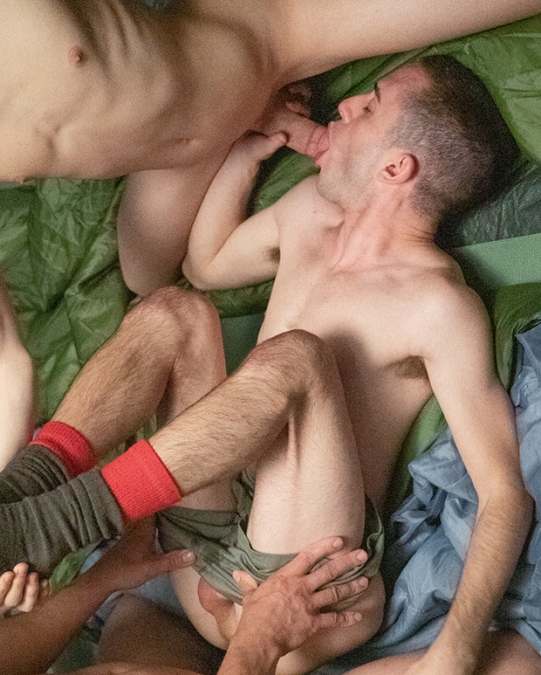 Austin has always loved scouting: the chance to be outside, to be around guys his own age, and to learn from more experienced men. He's worked hard at every task given him, showing an eagerness that has not gone unnoticed by his scoutmaster. Austin is a little bit shy, and a sexy little guy with almost no hair on his body, except for what grows on his head! But the little scout can be outgoing and eager to please once he finally opens up. He'd shown a lot of potential as a scout, which had not gone unnoticed by the scout leaders in the Elite Scouts. Along with his scoutmaster, the leaders are looking forward to seeing how well the boy can handle all the new adventures they're going to throw his way. He's grown under the guidance he's received in scouting, and now he's blossoming as he adapts to the demands of the Elite Scouts.
Oliver is the one of the quietest boys in his troop. At a glance, one might even think he is shy. He is obedient and hard working, but he tends to keep to himself and finds solace in nature. That's what drew him to the scouts to begin with. It was a chance to be outdoors, discovering things, building shelter, and living with respect for the land. And he likes spending time with his fellow scouts because they are all doing those things together… but he wants to do more. It's the "more" that has Oliver tongue-tied sometimes. He's been attracted to his scoutmasters and some of the other boys ever since he can remember, and the playful behavior he witnesses between other guys means something very different to him. Oliver hopes that pledging the Elite Scouts will be an opportunity to grow to be like the men he has admired all his life: strong, brave, and reliable. And hopefully he'll be able to grow closer to them as well on his journey toward manhood.
Scoutmaster Fantana has a reputation for being a no-nonsense kind of man—enlistment in the armed forces will do that—but that kind of life didn't lead to the adventures he had imagined as a young man. He brought his expertise and attention to detail to the Order of Elite Scouts, where he found his own beginnings, along with a vision to help mold the young boys for success. He can seem somewhat regimental and detached to others, but providing the structure every young man subconsciously craves. He eats well and works out almost daily to set a physical example for the young scouts in his charge. He sees them staring at him out of the corner of his eye, the same sort of look he used to give his leaders when he was a young scout. He's not the tallest man, but he's a broad stack of solid muscle with wide, baby-blue eyes and an enviable bubble butt. He's flattered by their attention, but his priority is the successful rearing of responsible, loyal leaders of the future. And if there's time for play when the work is done, well… He knows how to play hard too.