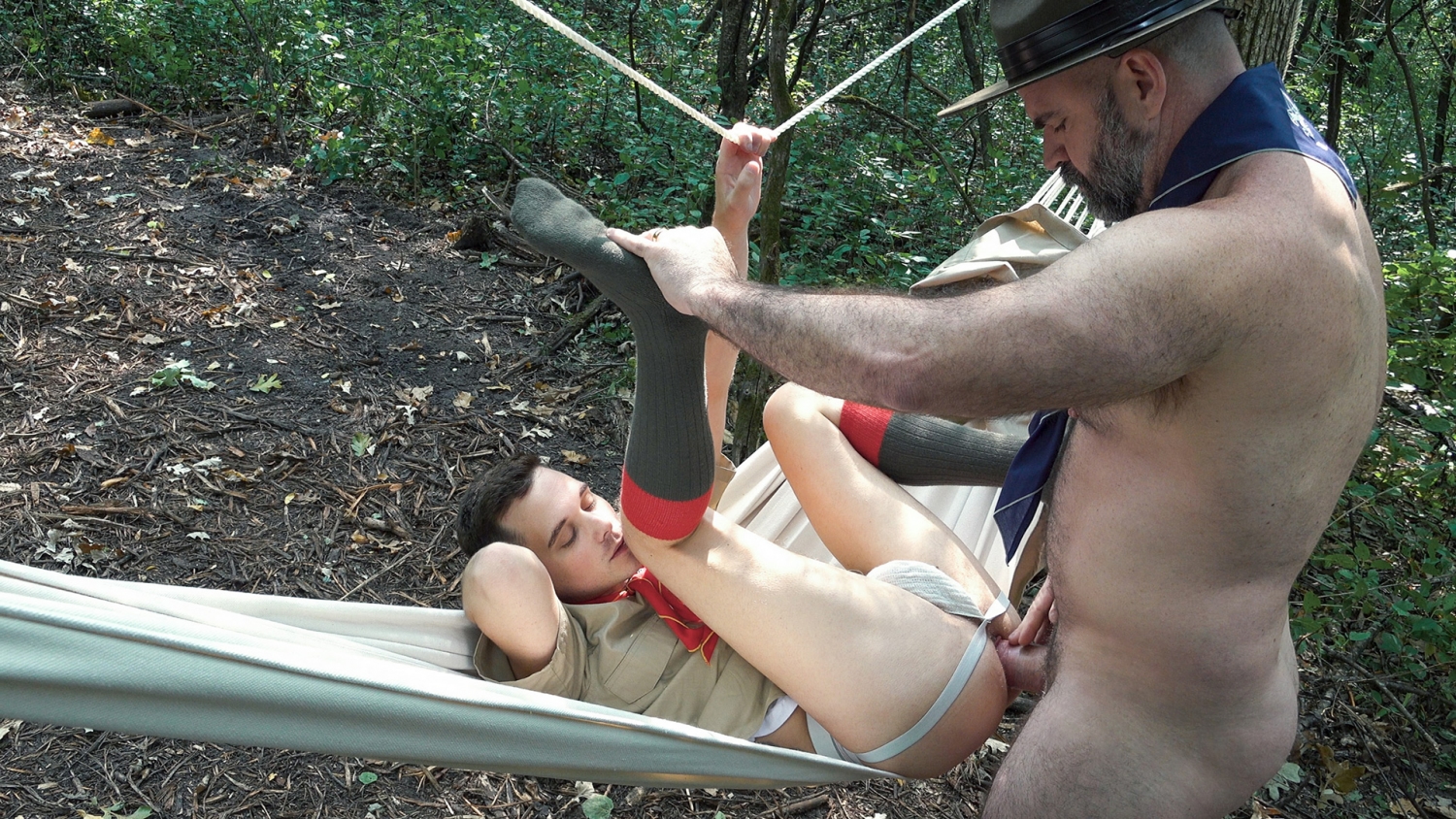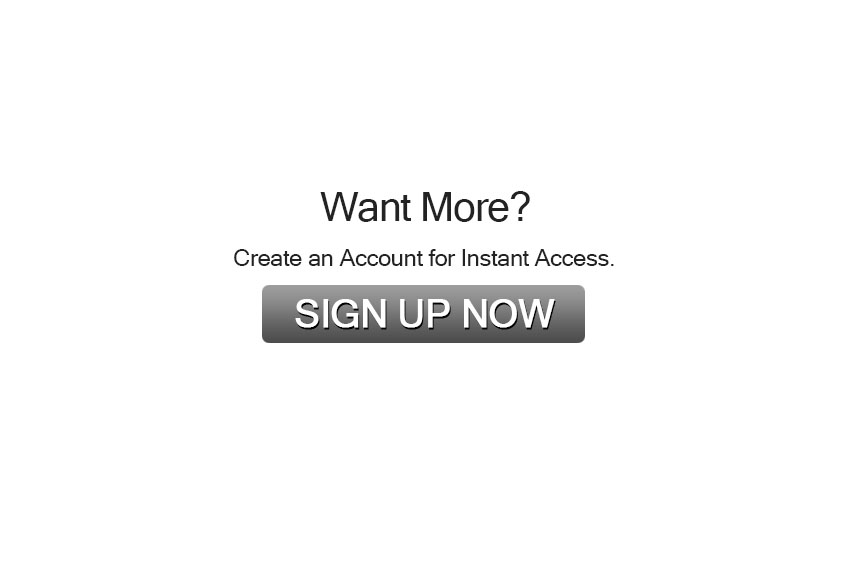 Outdoor Adventuring
It's another exciting day in the wilderness for Mark, an eager scout. He's studied the manual and learned his necessary survival skills, knots, and plant identifications. Before he can advance to more advanced adventuring, though, he has to prove his knowledge to the scoutmasters--a challenge that calls for practice, patience, and perseverance.
As Mark begins ...
Read more
As Mark begins working some rope to fashion a suitable line, he finds himself being watched by one of the scoutmasters he'll have to impress, Scoutmaster Angus. Mark is no stranger to Angus' presence around the campsite. Angus believes firmly that there's no substitute for hands-on learning, no matter how much time a scout spends with his manual.
Scoutmaster Angus was impressed with how well Mark handled his knots, prompting him to test his knowledge. Mark was a little nervous, but happy to get the encouragement from his leader.
As Mark moved through different knots, he felt Angus' hand move to his shoulder. It was a comforting, paternal gesture that was supposed to make him feel less nervous, but it only made his heart race. He hardly knew what to do with his fingers as his mind focused on Angus' touch.
Mark fumbled up a bit, unable to remember the next steps of his knots. Angus' hand moved down to his lower back, making Mark let out a deep exhale. The air from his lungs escaped him as Angus' big hands seemed to navigate his back like he had a compass pointing south. Mark didn't know what to do, but he didn't want it to stop. He looked around to see if anyone was watching, becoming very aware that the two of them were alone.
Suddenly, Angus' hand went down to his ass, grabbing at it gently but still kneading the meat of his cheeks. It was more than Mark ever thought would happen in that moment, and it sent a rush of excitement and anxiety through his young body.
Mark turned and looked at Angus. The older man looked at him in the eye, unapologetic and firm. He knew the reaction Mark would have and he stood by it. He cracked a devilish smile across his scruffy, salt and pepper face, giving Mark no doubt about the man's intentions.
"Come on," Angus began. "You know you want it."
"I--I'm not sure what to do." Mark was shaking, looking at his scoutmaster and hoping not to disappoint him. He knew all about knots and leaves, but he wasn't an expert on what the older man was looking for.
Putting a hand on the boy's shoulder, Angus looked into the boy's nervous eyes and replied, "I'll show you."
Angus leaned in and gave Mark a kiss. His soft, bristly beard brushed up against Mark's smooth face. The boy savored the feel of totally matured masculinity teasing his lips, making him eager to kiss back. Angus practically sucked the air out of his lungs again with the deep kiss he was given, and Mark held onto him tightly to make sure he wouldn't fall over.
Mark clumsily put a hand on Angus' crotch, feeling the bulge in his shorts. He didn't know what else to reach for, thinking primarily of what the man's cock would taste like.
Angus smiled again, pleased with Mark's receptiveness. He brought the young man back to his ropes, telling him that they needed to make a special hammock.
After tying a couple of sheets to some nearby trees, Scoutmaster Agnus had the perfect swing to let Mark lay back and lift up his legs. First, though, he took off the daddy bear's shorts. Angus held his hands on his hips as he watched Mark reveal his big, throbbing cock. He loved seeing Mark's eyes go wide.
Angus put Mark on his back, resting him on the makeshift hammock they'd fashioned, presenting the boy's hole up to meet his manhood. Mark was nervous, but he wanted it more than anything else at that moment. He could hear the trees rustling around him as if they were whispering "do it," and he felt compelled to keep going.
Angus let a drop of spit fall from his mouth onto the tip of his cock, making it glisten in the sun before he let it kiss the soft, smooth sphincter of Mark's ass. The delicate hole was tight as a knot, but Angus slowly eased himself between his beautiful cheeks.
Mark felt his stomach clench up as he was penetrated, feeling the beefy daddy bear enter him and slide back and forth. It hurt for a moment, as if the insides of his body were fighting back. But after he took a deep breath, his muscles relaxed, making a warm, cozy place for the older man's thick, bare cock.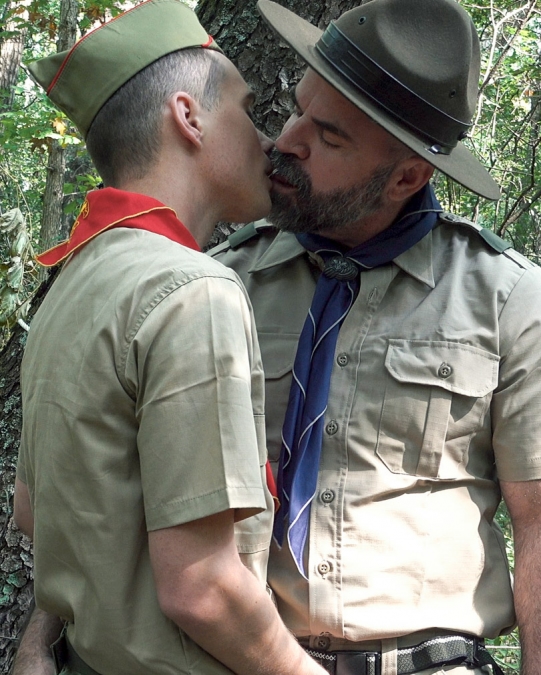 Ian is shy socially, but has never been one to shy away from a challenge, especially a physical one. In fact, he often sets the example for other boys his age. This is what brought him to the attention of the Elite Scouts. Ian's actions set an example for other boys his age even before joining cub scouts. His mischievous smile belies a true motivation for service and obedience, and he is exactly the kind of material his new leaders have been looking to add to the ranks of respectful, well-trained, and responsible boys. And his perfect little bubble butt hasn't escaped the notice of the older men who will guide the boy in the more intimate details of serving his fellow man, not just in deed but in all aspects of healthy physical development.
When Mark first joined the scouts, he was looking for a sense of community and a father figure. He happily found both, and it wasn't long before his dedication to his tasks attracted the attention of the men in charge of the Elite Scouts, who were impressed with such an eager boy. Now that he's at the Ranch after years of hearing the stories, he's just as determined to show these handsome older men that he deserves to be there. He taken the oath and made the pledge to the Elite Scouts that he'll always serve and obey in a way that proves he deserves to be admired and valued for what he brings to every situation, no matter how big or small—and he couldn't be happier to prove his devotion to The Order of Elite Scouts over and over again.
Scoutmaster Angus has an eye for boys who will perform well as Elite Scouts. That's why he's always there to give them a helping hand, a word of advice, or a firm command. These young men arrive thinking they understand what scouting is all about, and it's his job, the job of a scoutmaster in The Order of Elite Scouts to take them beyond what they've previously done. He must train them for more. And everyone agrees, when it comes to taking young boys in hand, no one is better than this scoutmaster. He loves being a father figure to many of the young scouts he works with each year, hoping they know that they can come to him for any reason. With his big, furry chest, beard with hints of salt and pepper, and massive muscular frame, he's often seen as a big muscly teddy bear. And while he's happy to pat their butts as they achieve new awards, most of them can't help but wish for more. Indeed neither can he.