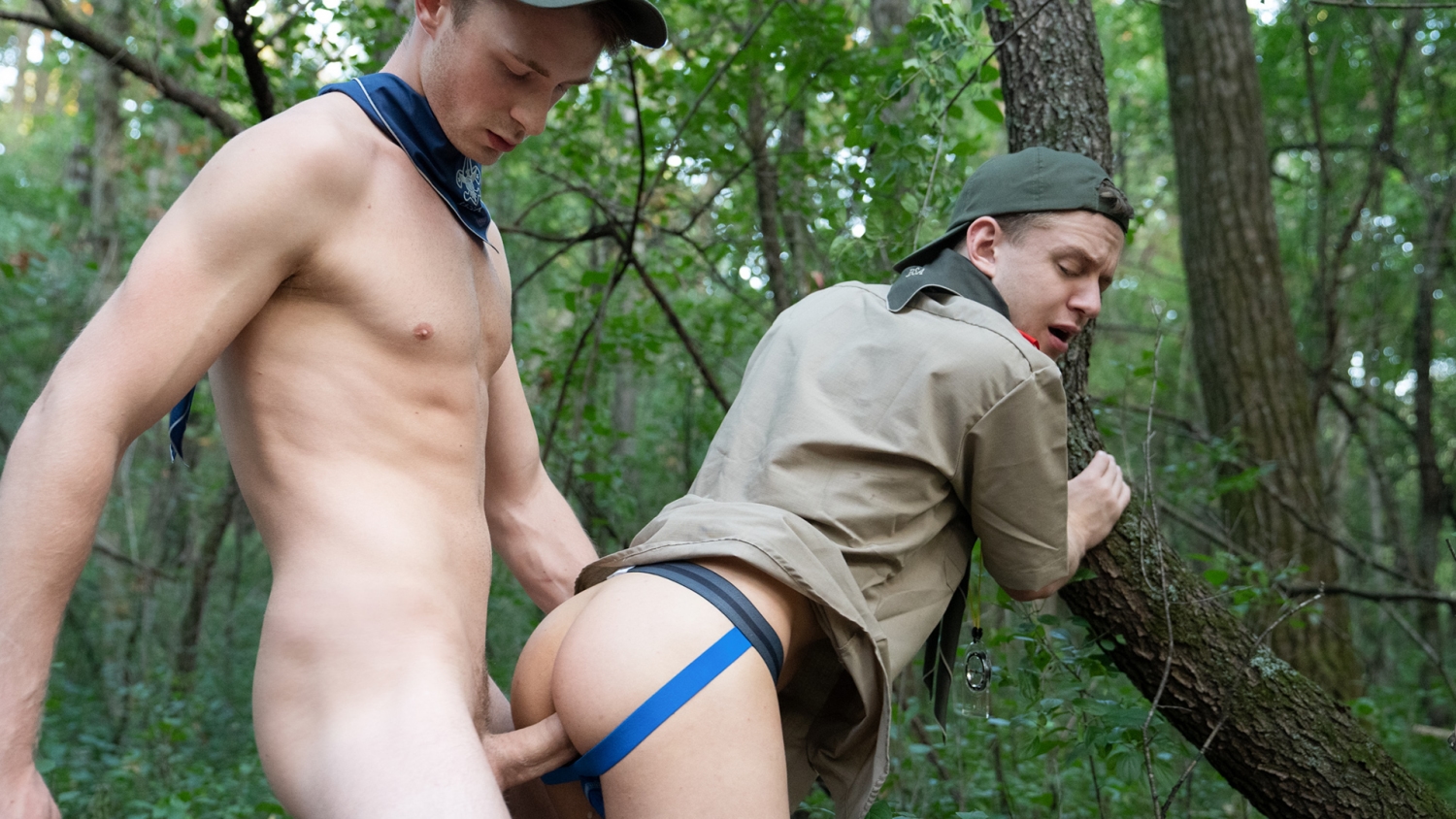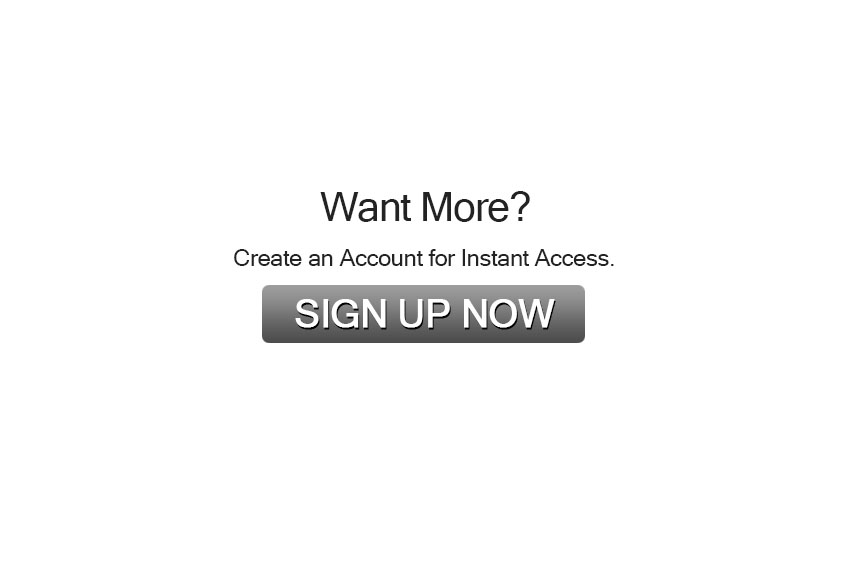 Orienteering
Rule one of hiking is always bring a buddy. Scouts Ian and Cole have studied the manual well and know how to safely go exploring in the woods. Even without fancy electronic devices, they're able to navigate simply by using a compass and map. Don't worry, they're not going far. As part of their skills training, the two boys are simply breaking off from camp for an afternoon adventure, just as a pair.
Scout Cole takes ...
Read more
Scout Cole takes the lead, having risen to the level of Elite Scout and earned the experience necessary to go off independently from the troop. Scout Ian was happy to join him, looking up to the handsome lad and hoping to learn a thing or two along the way. Sure enough, as they're hiking nature calls, leaving the boys to remember their hiking protocols.
Cole brings Ian along as he makes his way off the trail and into the shrubs, keeping sure to relieve himself away from the main path but keeping its markers within sight.
Everything goes according to plan until Cole finds himself a little shy in front of his companion. While there's nothing to be ashamed about, when Cole pulls out his member, he can't seem to get things going. Ian stands next to him, similarly positioned with his pecker pulled out, feeling the moment become heavy with anticipation.
Neither boy knows what to do, awkwardly standing in silence as the time ticks on. Ian, unable to ignore the size of Cole's package, sneaks a glance that the senior scout catches.
"I saw you looking," Cole smiled, teasing his travel buddy. It seemed like the obvious thing to do, considering they were just standing with their dicks in their hands, completely exposed.
Ian blushed. He didn't know what to say, and it was pretty obvious where his eyes had landed. But Cole didn't seem to mind, giving him a strange sense of security. He wanted Cole to like him, and it seemed like his teasing was a way of showing he did.
"Do you want to touch it?" Cole asked, still holding his cock in his hand.
Ian couldn't believe what Cole offered. It seemed wildly inappropriate and wrong, but he couldn't deny he wanted to. Badly. Seeing its size and girth resting atop his big nuts was so tempting and inviting. He knew he might not have the chance again, especially when they went back to camp, so he sheepishly said yes.
Reaching out, he felt the warm, silky skin of his partner in the palm of his hand. It pulsed gently, getting aroused as it made contact with his flesh. He squeezed it a little, practically in disbelief that it was out, let alone in his grip.
Cole held his hands on his hips, watching as Ian studied his manhood. He was proud of it. And moreso, he was starting to get horny.
"You know, it tastes pretty good, too," Cole whispered. Even though they were alone, Cole could tell Ian needed a gentle nudge.
Timidly, Ian bent down, opening his mouth as he angled toward Cole's cock, feeling it grow bigger and harder as he took it between his lips and on his tongue. Cole was right. It tasted great! It was just the right kind of sweaty after having walked the couple miles, giving it a flavor that made Ian's mouth water.
Cole felt his member get milked in Ian's mouth, impressed by his ability to suck and swallow his thick shaft. Clearly, this wasn't his first time. Cole took off his shirt and pulled down the boy's shirt, eager to see what the not-so-innocent scout's ass looked like.
As the boy's shorts fell, he saw his smooth, milky cheeks, pressed together beautifully in a jock strap. Cole's raging hard-on reached its peak, making him horny to fuck and cum. Luckily, Ian's sweet, soft bubble butt was right there, just waiting to be pounded.
Cole gently guided his companion over to a nearby tree, bending him over as he lowered his shorts more. Ian felt his heart race, knowing what Cole wanted. He wanted it, too, but he was nervous about taking something so big. Cole, however, knowing exactly what to do, gently eased his wet cock between Ian's cheeks, feeling the head of his massive shaft kiss up against his tight hole.
Ian held onto the tree, trembling like one of its leaves, just waiting for Cole to push through his sphincter. Instead, Cole gently brushed the head up against it, teasing it and coaxing it, like it was trying to lull it into a relaxed state. Sure enough, Cole felt the boy's hole become softer, easing up as it slowly began to welcome him inside.
With a shallow push, Cole felt the tip of his cock move its way in Ian's hole, covering the head of his penis in a warm, tight embrace. He held it there for a second, feeling Ian's racing pulse on the end of his manhood, pausing to give Ian a chance to become used to its presence.
Ian's breathing became deeper and slower, feeling himself become braver as the fear of the penetration went away. Cole was inside him, even if just the tip, and he was fine. Better than fine. He wanted more...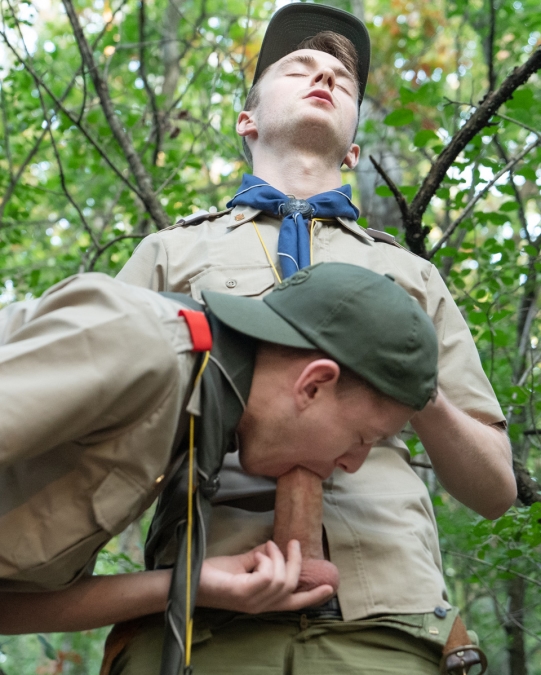 Scout Cole is a model for others to look up to. Tall, handsome, well educated, fit, knows his knots, and gets along great with scouts and scout leaders alike. The older men know they can trust Cole to lead in their place, often putting him in charge of smaller adventures with newer scouts. He's handy with a compass and rope, making him a natural when it comes to hiking in the great outdoors. Beneath the well decorated uniform is a well developed young man, with not only a warm, friendly spirit, but a big cock as well!
Ian is shy socially, but has never been one to shy away from a challenge, especially a physical one. In fact, he often sets the example for other boys his age. This is what brought him to the attention of the Elite Scouts. Ian's actions set an example for other boys his age even before joining cub scouts. His mischievous smile belies a true motivation for service and obedience, and he is exactly the kind of material his new leaders have been looking to add to the ranks of respectful, well-trained, and responsible boys. And his perfect little bubble butt hasn't escaped the notice of the older men who will guide the boy in the more intimate details of serving his fellow man, not just in deed but in all aspects of healthy physical development.